Svetlana Dental and Esthetic Center brings back the beauty and function of your teeth with veneers and lumineers. We solve both aesthetic and underlying health problems. Our patients get rid of teeth grinding, malalignment, and headache.
Orthodontic appliances are crafted by a U.S. top dental technician.
Installation is performed by Dr. Svetlana – 2019/2020 Top Dentist of America.
Veneers are thin (0.2 to 0.5 mm) coverings installed on the front teeth to conceal dental flaws and give you the smile of your dreams. The dentist will prepare your incisors, canines, or premolars, apply a dental glue, and fix veneers on them. Today, most clinics use porcelain and Emax veneers.
To achieve the best aesthetic effect, we advise you to use:
Six or ten veneers (depending on your smiling habits)
On both jaws to prevent protrusion of either the upper or lower teeth.
How expensive are veneers?
A ceramic veneer
$1,500
A lumineer
$1,950
Mask chips and cracks that result from severe grinding

Bring back the natural beauty of the enamel (in case of a serious color change)

Correct the shape of your teeth (when used to correct the wedge-shaped defect)

Achieve a visible change in the position of an incisor or canine
Veneers provide extra coverage and protect teeth against destructive outer influences

Ceramic or porcelain veneers last more than 15 years

A strong rejuvenating effect (you will look 7 to 15 years younger than you are)

Natural look (depending on the type of material and quality of installation work)

A palette of 20 hues (choosing the right color is no big challenge)

Quick production, installation, and adjustment.
You cannot remove a veneer without replacing it since the enamel has undergone facing and does not regenerate

The dental tissue may decay beneath the veneer (in case the dentist fails to install it properly and the patient fails to follow the veneer care instructions). 
What kind of veneers does Svetlana Dental provide?
We choose the best for our patients!
Ceramic veneers

Advanced 0.3 to 0.5 mm thick coverings fit closely to the surface of a tooth, help partially align the dental arch, and give you the Hollywood smile. We guarantee aesthetic satisfaction and a life of at least 10 years.
A lumineer is a kind of dental veneer

It is an ultra-thin (0.2 to 0.3 mm) dental covering. Therefore, they usually require minor or no dental facing.
Veneers
Lumineers
Thickness
0.3 to 0.5 mm
0.2 to 0.3 mm
Installation technique
In most cases, dental facing is required
Minor or no facing is required
What problems does it solve?
The whole spectrum of aesthetic issues
They cannot mask severe discoloration
Price
Lumineers are 25% to 35% more expensive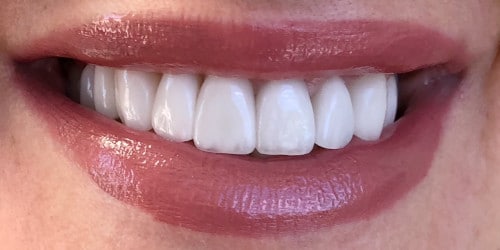 Our patients can use one of the two no-interest healthcare payment options – CareCredit or LendingClub – with a payback period of up to 2 years. It is an excellent opportunity to buy a shining and healthy smile right now.
How Svetlana Dental makes and installs veneers
The whole thing takes two visits to the clinic with an interval of 10 to 14 days.
Porcelain veneers and lumineers last 10 to 15 years.
No, it doesn't. The procedure is mildly invasive and non-traumatic. The only time when a patient can feel mild pain is during the removal of the outer layer of the enamel.
No, they don't, providing that they are installed properly, fit closely to the surface of the incisors or canines, and are used in keeping with the dentist's recommendations.
Porcelain veneers and natural enamel can remain snow-white for a long time (7 to 10 years). However, teeth-staining drinks can seriously affect the color of your veneers.