What is bone graft – this is a surgical procedure that replaces the missing bone after tooth extraction by increasing its width and height for the dental implant procedure. There are several types of bone: dry bone in powder form and live bone. We do not recommend using dry bone because the healing process will take much longer. We use bone material from the Bank of tissues, this bone is live, high quality and takes root very well.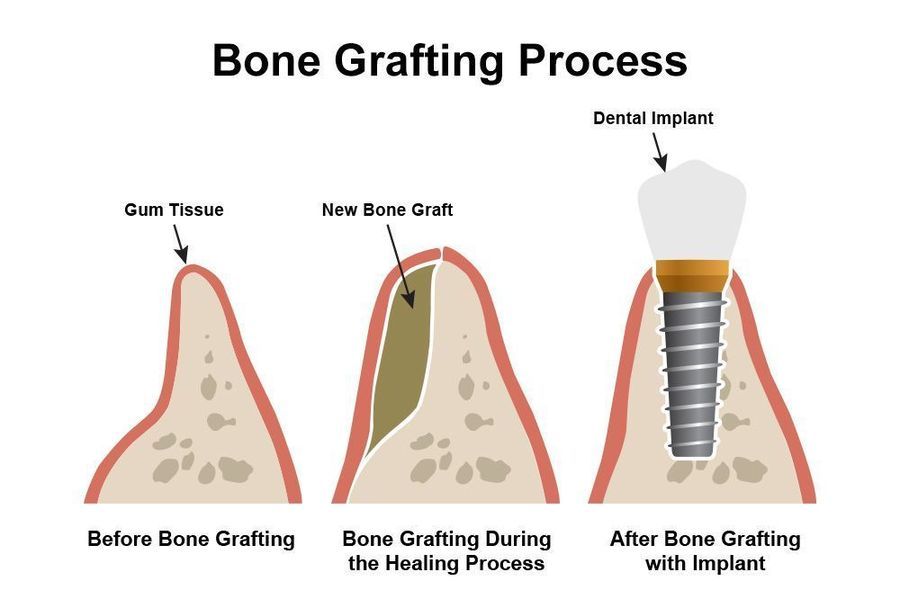 In what cases should we use bone grafting?
if you need to install the implant in the area where your tooth was removed several years (or months) ago;
if the patient has anatomically large maxillary sinuses;
when physiologically a person has a minimum volume of hard tissue.
What is the bone grafting process?
After tooth extraction, it is necessary to immediately place the bone in an open wound and suture so that the material remains inside. The process of bone engraftment on average takes about 2 months. You need to visit the dentist, make an X-Ray and make sure that the place is ready for implant placement.
What could be the consequences if I leave an empty space after tooth extraction?
In our practice, we meet a lot of cases when patients after tooth extraction do not build bone and do not install an implant, but simply leave an empty place. In such situations, after some time, bone atrophy occurs and it begins to dissolve. As a result, adjacent teeth begin to move and loosen. Your bite is also disturbed and adjacent teeth begin to fall out under pressure from the teeth. Instead of restoring one tooth, you need to restore 2 or 3, which is much more expensive and you have a problem with chewing food due to lack of necessary teeth.
How painful is the procedure?
You will be under anesthesia and accordingly will not feel anything. After the surgery, you will be prescribed the necessary medication that will relieve pain and swelling. 10 days after removing the tooth and laying the bone, you can come to check up to make sure that the healing is going well.
How much is it?
The price depends on the amount of bone to be used. On average, it is from $ 500 to $ 1200. This is nothing compared to how much you will need to pay if you do not restore a lost tooth.
For more details please call our office 954-457-8308.